Overview
---
---

Overview of BioBLAST® Project
Goals of the Program
to design an adventure/exploration scenario within an engaging graphical environment

to support an inquiry-based, cooperative-learning approach to teaching biology in accordance with the revised National Science Education Standards

to provide a systems-level approach to the study of biological issues that integrates math, science, and technology education within a problem-solving, research-oriented context

to work with a select cadre of teachers from schools throughout the United States to investigate how to effectively incorporate this interactive adventure software into state and local curricula

to demonstrate how NASA's Advanced Life Support research and data can be adapted to provide valuable and motivating software, laboratory activities, and student research that will enhance learning
Description of Program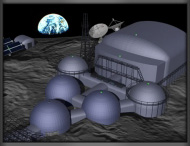 Using NASA's research on Bioregenerative Life Support Systems (BLiSS) helps students integrate many of the segmented concepts that they learn in biology, math, chemistry, and physics. In designing a biologically-based, regenerative system to support humans in space, students develop a greater understanding of the interdependence of living systems. In addition, BioBLAST brings futuristic scenarios into the classroom, where today's students may be tomorrow's explorers. For example, NASA anticipates having a fully self-sufficient air, water, and food recycling system to support a three-year mission to Mars by the year 2008. This means that students from the age of 15 and up are potential candidates for the projected 2008 international space mission to Mars.
BioBLAST includes the following features:
A virtual-reality interface.

BioBLAST uses a QuickTimeTM Virtual Reality graphical interface in which interactive objects, or "hotspots," are embedded. The software contains a futuristic, problem-solving scenario in which teams of students are sent to a lunar research facility where they use tools and resources in preparation for their ultimate goal, to design and test a model bioregenerative life-support system (BLiSS) that can support a crew of six for three years.
Laboratory investigations.

A set of hands-on, laboratory experiments focuses on key components of plant production, human requirements, and resource recycling processes. By gaining a better understanding of these processes, students prepare themselves to design their own BLiSS models.

Computer simulations.



Simulation software is included to supplement laboratory activities and to enable students to perform investigations not possible in a typical high school biology lab. Three simulations focus on the three topics covered in the laboratory, and a simulation called BaBS (Build a BLiSS System), is used to assess each student's BLiSS system design. The simulations give high school students access to current NASA research data.

Computer-based resources.

The BioBLAST virtual environment contains over 300 documents, 150 images, and 40 minutes of video. Documents include articles from scientific journals, popular magazines, and content written specifically for BioBLAST by life-science subject-matter experts. Video segments include a virtual "mentor," who provides suggestions relevant to students' research activities, and interviews with NASA scientists currently involved in advanced life-support research.



Link to NASA Researchers.

BioBLAST software includes the Web-based "Ask a NASA Expert." This on-line resource includes an automated question-and-answer system that dynamically links student questions with similar questions answered previously by NASA scientists and engineers. When students want more information than the existing answer provides, they can forward their questions to NASA experts.