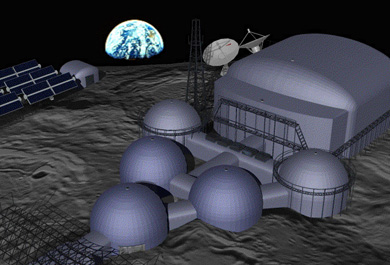 * Click Earth to enlarge the BioBLAST Lunar Base.
There are two ways to view the BioBLAST Lunar Base:
The Lunar Base image above contains hot links to floor plans that illustrate the narrative Walkthrough of the BioBLAST Environment.
Or, choose one of the following resolutions below to view the entire Lunar Base floor plan.
Your feedback is important to the ongoing process of designing our Lunar Base. Emailed comments regarding these graphics would be welcomed and appreciated.
Rhonda Sellers, BIOBLAST Graphic Designer
---

Please email questions about BioBLAST to BBteam@cet.edu.
Please email comments about this site to Webmanager@cet.edu.
---
Privacy Statement and Copyright© 1997-2000 by Wheeling Jesuit University/NASA Classroom of the Future™. All rights reserved.