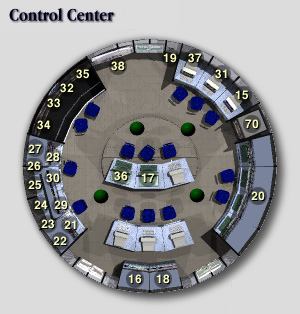 * Screen shot only
Key:
15 Ask A NASA Scientist/Engineer Homepage
16 Earth Contact Videos
17 Build A BLiSS System
18 Mentor
19 Activity Checklist
20 Atmospheric Conditions and Logistics
21 - 30 Views of the Lunar Base, Spaceship, BLiSS Chambers, and Outside Equipment
31 BioBLAST Homepage
32 Observation Window: Telescope, Solar Panels, Nuclear Reactor, Lunar Rover
33 NASA View of Earth from the Moon
34 Moon Geological Features and Locations
35 Astronaut Video
36 The Integrator
37 BioBLAST Technical Support
38 Crew Assignments
70 Robot

---

Please email questions about BioBLAST to BBteam@cet.edu.
Please email comments about this site to Webmanager@cet.edu.
---
Privacy Statement and Copyright© 1997-2000 by Wheeling Jesuit University/NASA Classroom of the Future™. All rights reserved.