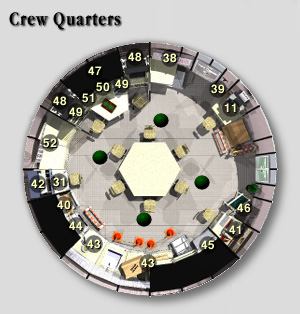 * Screen shot only
Key:
11 Atmospheric Control Panel
31 BioBLAST Homepage
38 Crew Assignments
39 Activity Checklist
40 Galley Storage
41 BioBLAST Recipe Page
42 Mentor
43 Food Processing and Preparation Equipment
44 Stove, Oven, and Microwave
45 Refrigerator and Freezer
46 Menu of the Day
47 Recreation Area Storage
48 TV and Videos
49 Video and Board Games
50 CD Player and CDs
51 Books and Magazines
52 BioBLAST "History of Life Support Timeline"
70 Robot

---

Please email questions about BioBLAST to BBteam@cet.edu.
Please email comments about this site to Webmanager@cet.edu.
---
Privacy Statement and Copyright© 1997-2000 by Wheeling Jesuit University/NASA Classroom of the Future™. All rights reserved.