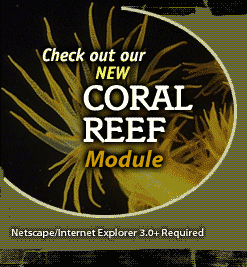 The U.S. Environmental Protection Agency estimates that 10 percent of the world's coral reef population has already been damaged, and a much higher percentage is threatened. Exploring the Environment's new coral reefs module takes a comprehensive look at this real danger to Earth's biodiversity and why it should concern us. Check out the Modules and Activities section for this look at coral reefs along with many other real-life environmental issues.
---
Attention, teachers, we need your help! We would like you and your students to provide feedback on ways to improve the Exploring the Environment® web site. Your evaluation will be based on the teaching approaches you already use for Exploring the Environment. To find out more, e-mail researchcf@cet.edu.


For questions, comments, or more information concerning ETE, please contact webmanager@cet.edu.


ETE is made possible through a cooperative agreement with the NASA Goddard Space Flight Center and is supported by NASA's Learning Technology Program (LTP),



...
Site maintained by the ETE Team
Last updated on April 28, 2005
Some images © 2004 www.clipart.com
Privacy Statement and Copyright © 1997-2004 by Wheeling Jesuit University/NASA-supported Classroom of the Future. All rights reserved.
Center for Educational Technologies, Circuit Board/Apple graphic logo, and COTF Classroom of the Future logo are registered trademarks of Wheeling Jesuit University.