Pick a Region:. . The Balkans:. . Bosnia


By the late 1980's Yugoslavia was in serious trouble. In an effort to stem the unrest in their southern province of Kosovo, Serbs were flocking to support the demagogic leadership of Slobodan Milosevic, who preached that the structure of Yugoslavia gave short shrift to Serbia's historic rights and current needs (Kosovo within Yugoslavia). The northern republics of Slovenia and Croatia had long cherished dreams of independence, and by 1991 they realized that they could no longer trust the Serbian government, which had grown increasingly aggressive and duplicitous in its relations with the other federal units.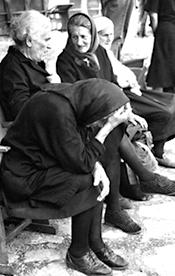 After holding referenda on the assertion of sovereignty, both Slovenia and Croatia declared their independence in the summer of 1991. Fighting broke out in both republics almost immediately. It ended quickly in Slovenia, partly because the Serbian-dominated JNA (Yugoslav People's Army) was caught by surprise there by the Slovenes' massive civilian resistance and some well-organized military moves; mostly, though, the Serbs had no territorial quarrel with Slovenia. With Croatia, however, it was a different story, and large parts of newly independent Croatia were overrun by Serbian rebels and Yugoslav troops. About 14% of the Croatian population was Serbian. Pushed by agitators, supported by the Yugoslav army, and fearful of a reappearance of heavy-handed Croatian rule, as had been witnessed in the area during World War II, many Serbs refused to be a part of the new Croatian state, which had not gone to great lengths to make them feel welcome. Photo courtesy of UNHCR Media and Public Affairs Unit (R. LeMoyne)
In the spring of 1992, Bosnians held their own referendum about secession. Even with most of the Serbian population boycotting the vote, the motion to secede still passed. The Serbian siege of the multiethnic Bosnian capital of Sarajevo began almost immediately, and the international press soon provided revelations about Serb concentration camps and campaigns of "ethnic cleansing" (forced expulsions) in the countryside.