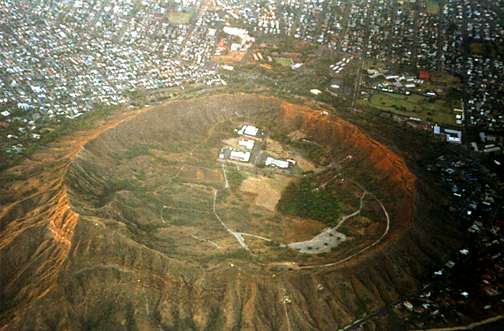 Diamond Head in Eastern Honolulu is a popular tourist attraction. It is an extinct volcanic crater. The layers visible in the rim were formed during many different eruptions. The last eruption occurred about 4 million years ago. Photograph courtesy of S.K. Croft.

---
HTML code by Chris Kreger
Maintained by ETE Team
Last updated November 10, 2004
Some images © 2004 www.clipart.com
Privacy Statement and Copyright © 1997-2004 by Wheeling Jesuit University/NASA-supported Classroom of the Future. All rights reserved.
Center for Educational Technologies, Circuit Board/Apple graphic logo, and COTF Classroom of the Future logo are registered trademarks of Wheeling Jesuit University.