This Shuttle photograph shows smoke rising from fires being used to clear land for agriculture. This particular fire is in the dense rainforest in the southwest corner of the Amazon basin just over the Brazilian border into Bolivia, although similar scenes can be observed all over the developing world. Shuttle photograph STS070-0727-0022. Photo: Courtesy of EarthRISE.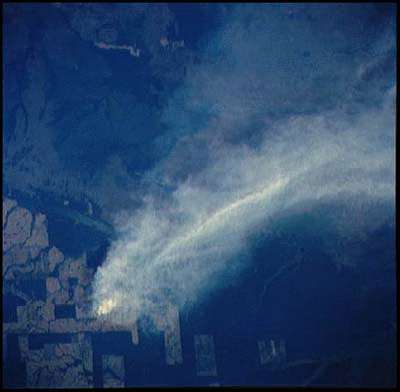 ---
HTML code by Chris Kreger
Maintained by ETE Team
Last updated November 10, 2004
Some images © 2004 www.clipart.com
Privacy Statement and Copyright © 1997-2004 by Wheeling Jesuit University/NASA-supported Classroom of the Future. All rights reserved.
Center for Educational Technologies, Circuit Board/Apple graphic logo, and COTF Classroom of the Future logo are registered trademarks of Wheeling Jesuit University.