Global Climate Change: Impacts
Climate affects everything from the flora and fauna which inhabit a region to the heating and cooling requirements of homes and businesses. When climate begins to change, all living things must adapt their lifestyles in order to survive. Global climate change could impact agriculture, ecosystems, forests, sea level, regional weather, human health, and human economics.
Agriculture:
Changes in temperature and precipitation patterns may lead to changes in the length of growing seasons and/or the rates of photosynthesis by plants. Such changes could lead to decrease in crop yield.
A major cause of global climate change--increased concentrations of atmospheric carbon dioxide (CO2)--may actually cause some plants to grow better.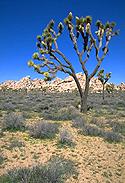 Ecosystems:
Biomes, which are closely related to the temperature and precipitation of a region, may actually change. For example, some forest regions could warm up, dry out, and become deserts. Warmer temperatures in northern latitudes may cause alpine forests to disappear as temperate forests migrate northward into these areas that had previously been too cold for them to survive. Photo: Joshua Tree National Park in the Mojave Desert in the Southwestern United States. Photo courtesy of Phil Greenspun.
Since ecosystem evolution is generally a slow process, some elements of an ecosystem might have problems adapting to rapid climate change and may not survive. For example, increased ocean temperatures may cause a decline in fisheries.
Sea Level:
If increased temperatures cause the polar ice sheets to melt, then sea level will rise as a result of the increased amount of water flowing into the sea.
Photo: California coast. Photo courtesy of Phil Greenspun.

If the sea level rises, there will be more coastal flooding

Water Availability:
Increases in temperature and a decrease in precipitation may result in increased pressure from people on the ground water supply. People need water for personal use, industrial usage, and agriculture.

Weather:
A warmer atmosphere may create more storms and more extreme weather events due to the increased amount of energy present in the system

Human Economics:
Decreased crop, livestock, and fishery yields, due to increased temperatures and/or decreased precipitation, may lead to economic loss for producers

Decreased crop, livestock, and fishery yields, due to increased temperatures and/or decreased precipitation, may lead to higher market prices for consumers

For more information, see the EPA's Impacts of Global Warming site. Or check out the EPA's Global Warming Impacts State-by-State, where you can see possible effects of climate change on each U.S. state.

Overview ..|.. Human Influences ..|.. Impacts
Glossary ..|.. Related Links ..|.. References |.. PBL Model

Home ..|.. Teacher Pages ..|.. Modules & Activities