Remote Sensing: Overview
Remote sensing is the act of collecting data without directly contacting its source. For example, scientists can determine the landscape of the ocean floor without walking on it. To do this, they send out sound waves from a ship on the ocean's surface. The sound waves reflect off the ocean floor and back to the ship. The scientists examine the way the sound waves echo back to the ship to determine the landscape of the ocean floor below. This method of remote sensing is called SONAR (SOund NAvigation Ranging).
A similar method of remote sensing is called RADAR (RAdio Detection And Ranging). While SONAR uses the reflection of sound waves to remotely sense objects, RADAR relies on the reflection of electromagnetic waves. This technology is used to track the movement of many things in the Earth's atmosphere, including airplanes and precipitation (rain, snow, etc.).
Photography is another method of remote sensing. Satellites can take "pictures" of the amount of infrared and visible light the earth gives off or reflects. Scientists can analyze these images to estimate things such as the pattern of water or vegetation covering the planet.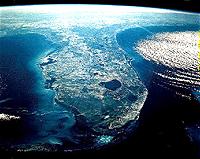 Airplanes and space shuttles can also provide scientists with remotely sensed data. Below is a picture of the state of Florida taken from a space shuttle on January 27, 1985. Photo: Space shuttle photograph of Florida, US. Photo courtesy of NASA.
There are many natural landscape features visible in this image. Lake Okeechobee is the large, dark space in the southcentral portion of the state. Southwest of Lake Okeechobee are the almost uninhabited Everglades National Park and Big Cypress National Preserve. The relative depth of water can also be seen in the image. The dark blue area along the southeast side of Florida is the deep water of the Atlantic Ocean. The light blue region along the western coast of the state is the shallow water of the Gulf of Mexico. The bright, light blue to white area at the southern tip of Florida is Florida Bay. An arc of islands that extend south and west of the state can be seen below the Florida Bay. This group of islands is the Florida Keys.
Human additions to Florida's landscape are also visible in the above shuttle image. Large argicultural fields can be seen as dark patches directly below Lake Okeechobee. The urban area that includes Miami, Fort Lauderdale, Boca Raton, and West Palm Beach can be seen as the light section stretching along the southeast coast of the state.
Remote sensing is very useful to environmental scientists--scientists who study interactions among the earth's spheres. They use this tool to keep track of what is going on in the world.
Overview | Land Use | Waterflow | Habitat
Glossary ..|.. Related Links ..|.. References |..PBL Model
Home ..|.. Teacher Pages ..|.. Modules & Activities