The Normalized Difference Vegetation Index for Korea
This mosaic, made from more than one individual image, shows the Normalized Difference Vegetation Index (NDVI) for the Korean peninsula and surrounding regions. The NDVI, derived from two bands of the AVHRR detector, shows the density and condition of vegetation on the Earth's surface. In the false-color scheme used here, dark blue represents the thickest plant cover. Light blues, greens, and yellows represent progressively thinner plant cover, and orange-browns represent bare ground and urban areas. The linear color boundary extending from upper left to lower right across the top of the mosaic divides sections taken at different times of the year: the upper section was taken in the winter when vegetation is sparse, while the lower section was taken in the summer when vegetation is dense. The original NDVI data, modified for use in this image, was obtained from the Global Land 1-km AVHRR Project at the Distributed Active Archive Center (DAAC), located at The Earth Resources Observation Systems (EROS) Data Center.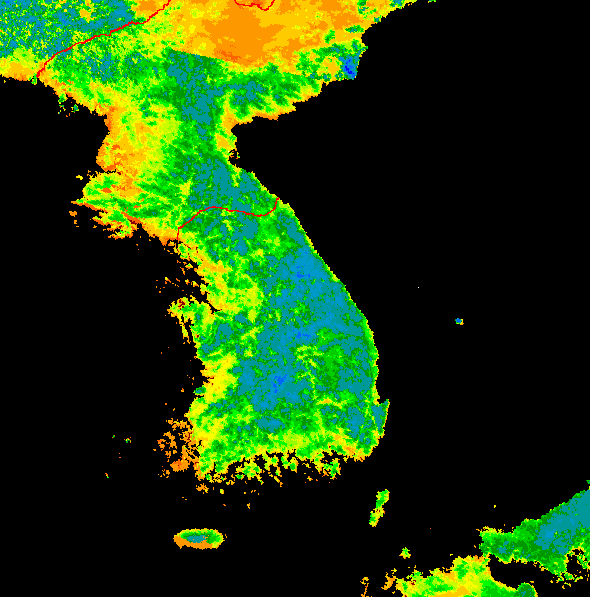 ---
HTML code by Chris Kreger
Maintained by ETE Team
Last updated April 28, 2005
Some images © 2004 www.clipart.com
Privacy Statement and Copyright © 1997-2004 by Wheeling Jesuit University/NASA-supported Classroom of the Future. All rights reserved.
Center for Educational Technologies, Circuit Board/Apple graphic logo, and COTF Classroom of the Future logo are registered trademarks of Wheeling Jesuit University.