Skip Navigation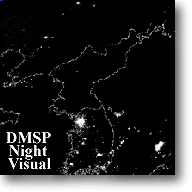 Situation
The view from space, however, suggests that North and South Korea are not similar at all. As seen in this DMSP night view of the Korean peninsula, the southern half, comprising the nation of South Korea, is ablaze with lights. In contrast, the northern half, the nation of North Korea, is shrouded in almost complete darkness. More city lights can be seen to the north and northeast in China and Russia than in North Korea. Even the fishing fleets of South Korea and Japan in the Sea of Japan to the east show more lights than North Korea. (To see a full-scale version, click on the image. Use the map below to help you identify nations, land, and water.) Left: Data courtesy of NOAA/DOC/AFGWC and imagery by NGDC.
What differences between the two countries can account for the difference in the level of artificial illumination in each country?
Your group has been asked to prepare a report to the U.S. State Department that will provide an in-depth look at the reasons accounting for the information contained in this night-time image. You have been provided with advanced satellite imagery and tools to assist you in your research. Please keep in mind that these tools can be used to assist in analyzing not only events and issues in Korea, but in other locations throughout the world.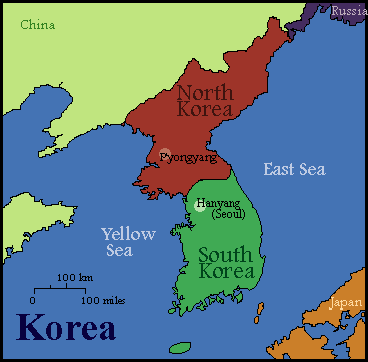 [ Page 1 ] [ Page 2 ]
[ References ] [ PBL Model ]
[ Home ] [ Teacher Pages ] [ Modules & Activities ]

---
HTML code by Chris Kreger
Maintained by ETE Team
Last updated April 28, 2005
Some images © 2004 www.clipart.com
Privacy Statement and Copyright © 1997-2004 by Wheeling Jesuit University/NASA-supported Classroom of the Future. All rights reserved.
Center for Educational Technologies, Circuit Board/Apple graphic logo, and COTF Classroom of the Future logo are registered trademarks of Wheeling Jesuit University.