This photograph shows the highest point in all of Korea, Mount Paektusan. At 9,000 feet in elevation, the snow-capped peak is much higher than the surrounding hills. The mountain is a dormant volcano, crowned by the crater lake Ch'onji, which means "Heavenly Lake" in Korean. The lake is clearly visible at the center of the mountain. Paektusan is the legendary birthplace of Tan-gun, the mythical founder of the Korean nation. North is to the top.
NASA Shuttle photograph #STS61A-0048-0008 and 27 (EarthRISE Archive).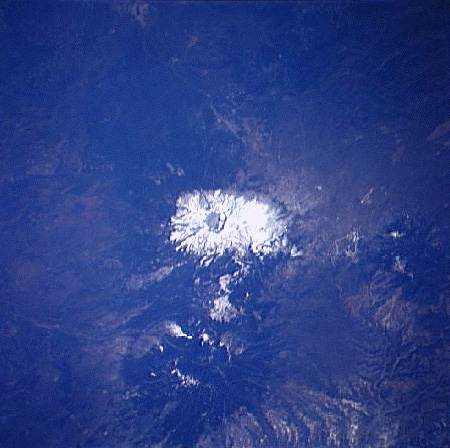 ---
HTML code by Chris Kreger
Maintained by ETE Team
Last updated April 28, 2005
Some images © 2004 www.clipart.com
Privacy Statement and Copyright © 1997-2004 by Wheeling Jesuit University/NASA-supported Classroom of the Future. All rights reserved.
Center for Educational Technologies, Circuit Board/Apple graphic logo, and COTF Classroom of the Future logo are registered trademarks of Wheeling Jesuit University.