Living in a Poor Country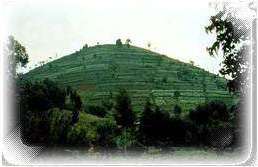 For the people living near the mountain gorilla habitat of the Virunga mountains, obtaining the basics, such as food, shelter, and clothing, is a major challenge. Nearly all these people are either farmers, ranchers, or hunters and gatherers. Each of these methods of subsistence requires large tracts of land, which are becoming more and more scarce as the surrounding population continues to grow. Above left: Almost all of Rwanda is cultivated, even the steepest slopes. Photo: Courtesy of the Dian Fossey Gorilla Fund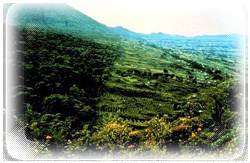 Furthermore, the conservation areas for mountain gorillas take up a substantial portion of the total land available for local natives, particularly in densely populated Rwanda. At present, there is no buffer zone between the cultivated land where people live and the park land designated for mountain gorillas. In nations, such as Rwanda, Uganda, and Congo, where populations are growing rapidly and natural resources are scarce, it is increasingly difficult for the people to take a long-term approach to conservation for future generations. National governments are coming under increasing pressure to convert additional park land into cattle-grazing areas in order to maintain herds. Above right: The gorillas' shrinking world has little protection from encroaching humans. Photo: Courtesy of the Dian Fossey Gorilla Fund
What is it like to live in poverty? How much time might you spend doing simple tasks, such as getting water and gathering fuel with which to cook?
The average annual income of Rwanda is $200. In order for you to live on $200 a year, you would have to do the following:
Live in the backyard in a storage shed.
Live without running water and toilets.
Trade your bed for a mat on the ground.
Unplug all electrical appliances, including lights.
Remove all food from the kitchen, except a few handfuls of dried rice, beans, or potatoes.
Cook over a wood fire.
Heat with wood only.
Walk everywhere.
Limit yourself to one shirt and one pair of pants. If you're lucky, you may have a pair of shoes.
Cancel the newspaper and give up all battery- powered devices, such as CD players or walkmans.
Spend most of the day hauling water and looking for firewood.
Suffer, possibly, from a form of dysentery or parasites.
[ Economics of Rwanda ] [ Economics of Uganda ]
[ Economics of Congo ] [ Living in a Poor Country ] [ Ecotourism ]
[ Glossary ] [ Related Links ] [ References ] [ PBL Model ]
[ Home ] [ Teacher Pages ] [ Modules & Activities ]