It's Raining Cats & Dogs
Photo: Courtesy of www.arttoday.com

We have all heard the expression "it's raining cats and dogs." There are several theories about this rainfall saying. It is possible that the word cat is derived from the Greek word 'catadupe' meaning 'waterfall.' Or it could be raining 'cata doxas,' which is Latin for 'contrary to experience,' or an unusual fall of rain.

In Northern mythology the cat is supposed to have great influence on the weather, and English sailors still say the cat has a gale of wind in her tail when she is unusually frisky. Witches that rode upon the storms were said to assume the form of cats; and the stormy northwest wind is called the cat's nose in the Harz mountains even at the present day. The dog is a signal of wind, like the wolf. Both animals were attendants of Odin, the storm-god. In old German pictures the wind is figured as the "head of a dog or wolf," from which blasts issue. The cat therefore symbolizes the down-pouring of rain, and the dog the strong gusts of wind that accompany a rainstorm; and a rain of "cats and dogs" is a heavy rain with wind.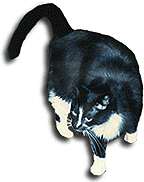 The Bible describes a rain of manna and quails more than 3,000 years ago. At the time this was looked upon as a supernatural event; it was actually not an uncommon thing. The rain of manna has happened frequently in modern times; the manna is really a lichen that grows in great numbers after rains.
There are numerous accounts of rains of frogs, hay, fish, and grain. All of these accounts seem to be due to tornado-like "whirlwinds." A good whirlwind can lift thousands of pounds and carry objects for miles. There is one reliable account of a fishing boat that sailed into a large waterspout. Fish flew everywhere. There are about seventy recorded rains of fish, but nearly all of the rains of fish are small ones. There is, however, one account of a fish fall in India in which more than ten people picked up fish weighing up to eight pounds each. There are many accounts of rains of ice-coated ducks, grasshoppers, fish, and frogs, but there is no account of a raining of cats and dogs (Lockhart, 1988). Photo: Courtesy of Pam Rastall
[ It's Raining Cats & Dogs ] [ What Are Hurricanes? ]
[ How Are Hurricanes Formed? ] [ Damage ]
[ Hurricane Intensity & the Saffir-Simpson Scale ] [ Naming Hurricanes ]
[ Glossary ][ PBL Model ]
[ Home ] [ Teacher Pages ] [ Modules & Activities ]