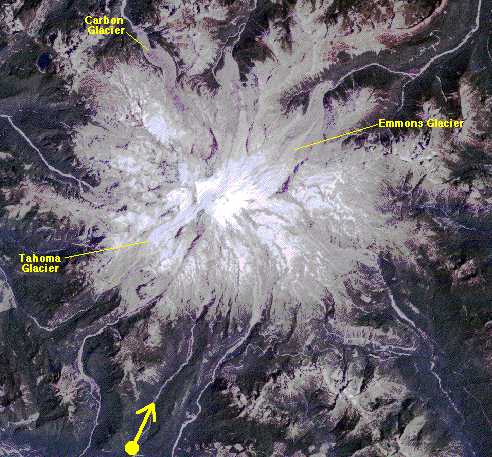 Enlargement of Mount Rainier seen in aerial photograph. Colors in this image have been stretched to show the glaciers, which would otherwise appear a featureless white. Yellow spot with arrow shows approximate location of airplane and viewing direction of the camera when the photograph was taken.

Image: S. K. Croft. Raw TM scene #Y5308418181X0. These data are distributed by the EROS Data Center Distributed Active Archive Center (EDC DAAC), located at the U.S. Geological Survey's EROS Data Center in Sioux Falls, SD.

---
HTML code by Chris Kreger
Maintained by ETE Team
Last updated November 10, 2004
Some images © 2004 www.clipart.com
Privacy Statement and Copyright © 1997-2004 by Wheeling Jesuit University/NASA-supported Classroom of the Future. All rights reserved.
Center for Educational Technologies, Circuit Board/Apple graphic logo, and COTF Classroom of the Future logo are registered trademarks of Wheeling Jesuit University.