Skip Navigation

Mount Hood Information: Maps and Movies
Here is some basic information on the Mount Hood case. Additional useful information will be found at this Internet site. You may wish to search for other online home pages for additional information.
Hood Area map. This shows the cities, towns, major highways, and rivers around Mount Hood. In addition to the small communities in the area, many visitors from Portland flock to the area each weekend. Mount Hood is the second most climbed mountain in the world (after Mount Fujiyama in Japan - another volcano).
Hood Uplift map. This is the latest map showing the magnitude and area of uplift caused by the influx of new lava at depth. It also shows the local roads and towns in the immediate vicinity of the mountain.
Hood Seismic map. This is the latest surface map of earthquakes caused by the new lava.
Hood Seismic movie. image 1 | image 2 | image 3

This set of three images shows the movement of lava at depth as traced out by subsurface earthquakes.
Oregon Topographic map. This map will let you see the topography around Mount Hood.
---
HTML code by Chris Kreger
Maintained by ETE Team
Last updated October 04, 2010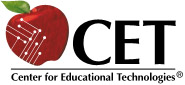 Discuss Exploring the Environment!
Some images © 2004 www.clipart.com.
Privacy Statement and Copyright © 1997-2004 by Wheeling Jesuit University/NASA-supported Classroom of the Future. All rights reserved.
Center for Educational Technologies, Circuit Board/Apple graphic logo, and COTF Classroom of the Future logo are registered trademarks of Wheeling Jesuit University.