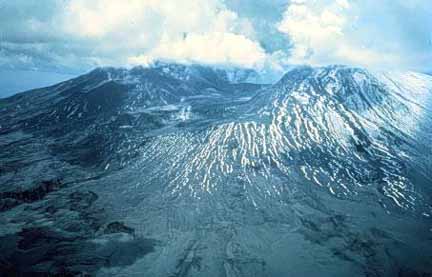 "Mount Saint Helens viewed from the north on June 4, 1980. The huge U-shaped basin formed by the landslide and the initial blast was nearly two miles long and one mile wide. The mountain was lowered 1,300 feet. Ash covered slopes, and extensive mudflows are visible in the photograph. Mudflows dumped more than 75 million cubic yards of sediment into rivers, valleys, and reservoirs. Several pyroclastic flows left about 0.05 cubic mile of deposits in this area. About 230 square miles were devastated by the eruption." (U.S. Dept. of Commerce, 1980, p. 4) Photo: Courtesy of NGDC/NOAA.
---
HTML code by Chris Kreger
Maintained by ETE Team
Last updated November 10, 2004
Some images © 2004 www.clipart.com
Privacy Statement and Copyright © 1997-2004 by Wheeling Jesuit University/NASA-supported Classroom of the Future. All rights reserved.
Center for Educational Technologies, Circuit Board/Apple graphic logo, and COTF Classroom of the Future logo are registered trademarks of Wheeling Jesuit University.