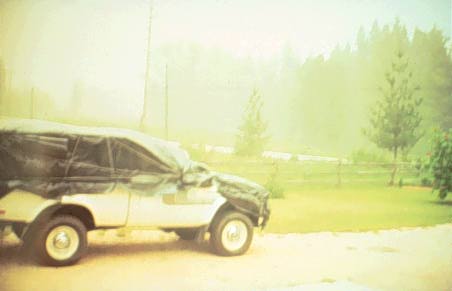 "The ash fall at Sand Point, Idaho, more than 300 miles northeast of Mount Saint Helens. At the height of the ash fall even at this distance there was not enough daylight to properly expose film. The car has been covered to protect it from the abrasive ash. Ash continued to fall several days after the eruption had subsided. It damaged or destroyed many agricultural crops downwind from the eruption. However, in the long run the ash provided beneficial nutrients to the soils." (U.S. Dept. of Commerce, 1980, p. 5) Photo: Courtesy of NGDC/NOAA.
---
HTML code by Chris Kreger
Maintained by ETE Team
Last updated November 10, 2004
Some images © 2004 www.clipart.com
Privacy Statement and Copyright © 1997-2004 by Wheeling Jesuit University/NASA-supported Classroom of the Future. All rights reserved.
Center for Educational Technologies, Circuit Board/Apple graphic logo, and COTF Classroom of the Future logo are registered trademarks of Wheeling Jesuit University.