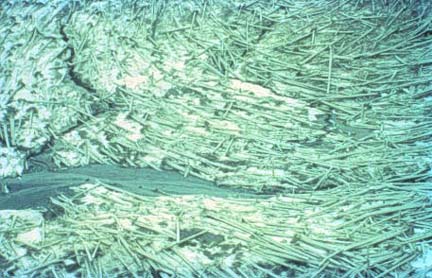 "Uprooted trees in the ash-covered Green River valley. A small debris flow is visible on the left. Trees amounting to more than 4 billion board feet of salable timber were damaged or destroyed by the near-supersonic lateral blast of rock, ash, and hot gases. The blast devastated an area of about 230 square miles in a fan-shaped sector north of the volcano. At least 25 percent of the damaged timber was later salvaged. The photo was taken on May 24, 1980." (U.S. Dept. of Commerce, 1980, p. 5) Photo: Courtesy of NGDC/NOAA.
---
HTML code by Chris Kreger
Maintained by ETE Team
Last updated November 10, 2004
Some images © 2004 www.clipart.com
Privacy Statement and Copyright © 1997-2004 by Wheeling Jesuit University/NASA-supported Classroom of the Future. All rights reserved.
Center for Educational Technologies, Circuit Board/Apple graphic logo, and COTF Classroom of the Future logo are registered trademarks of Wheeling Jesuit University.