"Surface details of the debris (mud) flow on the North Fork of the Toutle River near Coldwater Creek. ...There is approximately 50 feet of relief between the pond and the mudflow surface. Pyroclastic flows together with hot ash from nuČes ardentes (superheated masses of superheated masses of gas-charged ash that has been explosively expelled) melted the snow and ice on the flanks of the mountain and created these mudflows. Debris filled the North Fork valley of the Toutle River to a depth of 200 feet." (U.S. Dept. of Commerce, 1980, p. 6)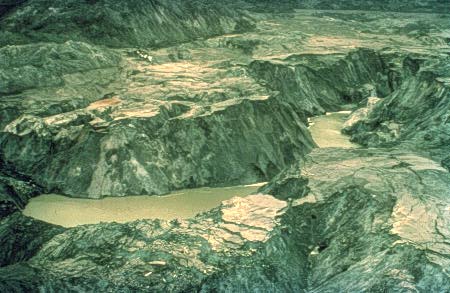 Mud flows on Toutle River
Photo: Courtesy of NGDC/NOAA.
---
HTML code by Chris Kreger
Maintained by ETE Team
Last updated November 10, 2004
Some images © 2004 www.clipart.com
Privacy Statement and Copyright © 1997-2004 by Wheeling Jesuit University/NASA-supported Classroom of the Future. All rights reserved.
Center for Educational Technologies, Circuit Board/Apple graphic logo, and COTF Classroom of the Future logo are registered trademarks of Wheeling Jesuit University.