"Mount Saint Helens as viewed from the west side (looking up the South Fork of the Toutle River Valley). In this photo taken on March 25, 1980, just two days before the first visible volcanic activity, the mountain looks completely serene. Mount Saint Helens is the youngest of the major Cascade volcanoes. Comparatively recent volcanism has not given the mountain's smooth symmetrical slopes time to develop deep erosional scars." (U.S. Dept. Of Commerce, 1980, p. 3)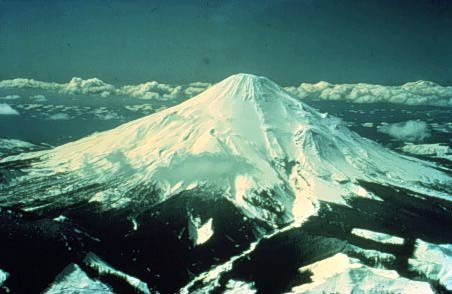 Mount St. Helens
Photo: Courtesy of NGDC/NOAA.
---
HTML code by Chris Kreger
Maintained by ETE Team
Last updated November 10, 2004
Some images © 2004 www.clipart.com
Privacy Statement and Copyright © 1997-2004 by Wheeling Jesuit University/NASA-supported Classroom of the Future. All rights reserved.
Center for Educational Technologies, Circuit Board/Apple graphic logo, and COTF Classroom of the Future logo are registered trademarks of Wheeling Jesuit University.