"The growing lava dome in the explosion crater as it appeared on May 19, 1983, three years after the main eruption. The dome is built from the composite of lava lobes extruded onto the surface during different eruption phases. Material is also added to the dome from within. As the composite dome increases in size, chances increase for collapses of its sides which could trigger pyroclastic flows and rock falls from the crater walls." (U.S. Dept. Of Commerce, 1980, p. 6)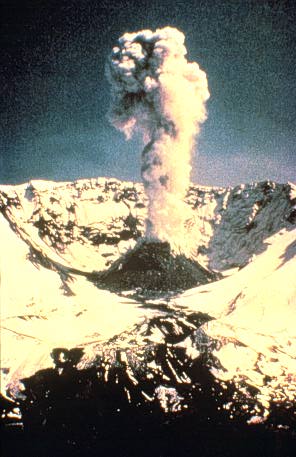 The growing lava dome in the explosion crater
Photo: Courtesy of NGDC/NOAA.
---
HTML code by Chris Kreger
Maintained by ETE Team
Last updated November 10, 2004
Some images © 2004 www.clipart.com
Privacy Statement and Copyright © 1997-2004 by Wheeling Jesuit University/NASA-supported Classroom of the Future. All rights reserved.
Center for Educational Technologies, Circuit Board/Apple graphic logo, and COTF Classroom of the Future logo are registered trademarks of Wheeling Jesuit University.