Skip Navigation

Case Study 1: Lower Wheeling Creek
In this case study, you and your colleagues can determine if there is a water quality problem in lower Wheeling Creek? If so, what is the source of the problem?
Make a list of all of the things that could have caused changes with stream water quality. Which of these could change the water quality in lower Wheeling Creek?
Water quality information for lower Wheeling Creek has been organized to allow you to explore activities that will help to change water quality. Does this information help you to narrow your list of changes? Click on letters to see sampling sites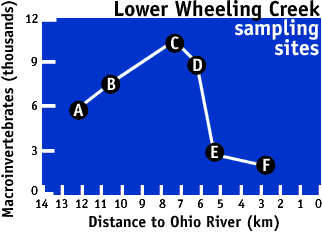 [ a ] [ b ] [ c ] [ d ] [ e ] [ f ]
[ Glossary] [ Related Links ] [ References ] [ PBL Model ]
[ Home ] [ Teacher Pages ] [ Modules & Activities ]
---
HTML code by Chris Kreger
Maintained by ETE Team
Last updated November 10, 2004
Some images © 2004 www.clipart.com
Privacy Statement and Copyright © 1997-2004 by Wheeling Jesuit University/NASA-supported Classroom of the Future. All rights reserved.
Center for Educational Technologies, Circuit Board/Apple graphic logo, and COTF Classroom of the Future logo are registered trademarks of Wheeling Jesuit University.