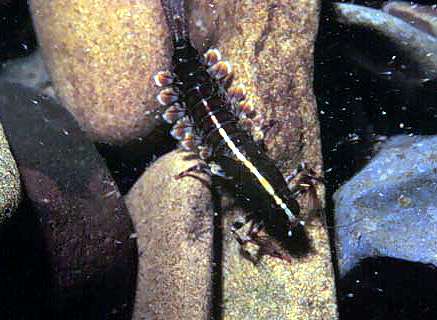 Collectors 2. Larvae of the mayfly Isonychia bicolor capture small particles with a fring of hairs on the forelegs
that works like a baseball mitt. Notice the front legs extending forward as the insect poses on the stream bottom.
Photo reprinted, by permission, from Larry Willis.
---
HTML code by Chris Kreger
Maintained by ETE Team
Last updated November 10, 2004
Some images © 2004 www.clipart.com
Privacy Statement and Copyright © 1997-2004 by Wheeling Jesuit University/NASA-supported Classroom of the Future. All rights reserved.
Center for Educational Technologies, Circuit Board/Apple graphic logo, and COTF Classroom of the Future logo are registered trademarks of Wheeling Jesuit University.