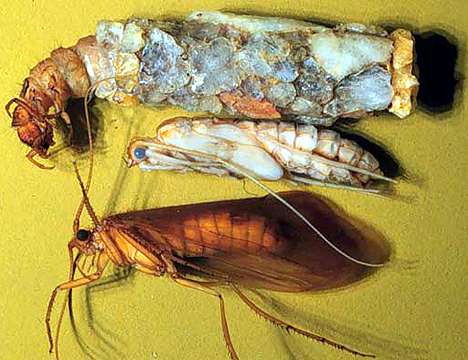 Shredders 2. Larvae of the caddisfly Pycnopsyche gentilis eat leaves. They spin silk and weave together a case of stones. Eventually, they pull themselves inside and seal off the case, then pupate for several weeks undergoing a miraculous metamorphasis to the beautiful adult pictured below. Photo reprinted, by permission, from Skip Hodges.
---
HTML code by Chris Kreger
Maintained by ETE Team
Last updated November 10, 2004
Some images © 2004 www.clipart.com
Privacy Statement and Copyright © 1997-2004 by Wheeling Jesuit University/NASA-supported Classroom of the Future. All rights reserved.
Center for Educational Technologies, Circuit Board/Apple graphic logo, and COTF Classroom of the Future logo are registered trademarks of Wheeling Jesuit University.