Changes in Solar Output
Changes in solar output affect the amount of solar energy reaching the Earth's atmosphere and surface, and thus affect the planet's climate. Changes in solar output occur during events such as sunspots and solar flares.
Sunspots cause slow, temporary decreases in the amount of energy emitted from the Sun.
Solar flares cause sudden, temporary increases in the amount of energy emitted from the Sun.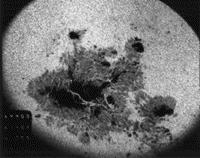 Photo: Sunspot group observed on June 14th, 1989. Image shows only a small portion of the sun. Photo courtesy of New Jersey Institute of Technology's Big Bear Solar Observatory.
HTML code by Chris Kreger
Maintained by ETE Team
Last updated April 28, 2005
Some images © 2004 www.clipart.com
Privacy Statement and Copyright © 1997-2004 by Wheeling Jesuit University/NASA-supported Classroom of the Future. All rights reserved.
Center for Educational Technologies, Circuit Board/Apple graphic logo, and COTF Classroom of the Future logo are registered trademarks of Wheeling Jesuit University.