Astronomy Village®: Investigating the UniverseTM
---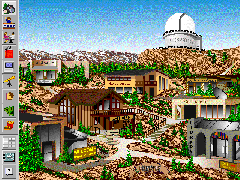 New Hubble images available!

Astronomy Village: Investigating the Universe is a CD-ROM based multimedia program that provides teachers and students with ten complete investigations in astronomy intended to complement and extend the science curriculum in 9th and 10th grade classes. Students, in teams of three, use the Astronomy Village software to conduct investigations in astronomy and learn about the nature of scientific inquiry. The Astronomy Village's interface is based on the village-like appearance of major observatories on mountain tops. Tools available to students include an image processing program, an image browser, and various simulation programs. The simulation programs include a star life cycle simulator, an orbital simulator (Mac only), and a 3-D star simulator (Mac only). Other resources available on this CD for the student research teams include: digitized video clips; images from the Hubble Space Telescope and other instruments; audio clips of astronomers discussing their work; computer animations and graphics; and full text documents such as book chapters, NASA publications, and articles from astronomy journals and magazines.
Application Goal
The goal of the Astronomy Village is to provide schools with a multimedia curriculum resource aligned with national education reform efforts. The Astronomy Village provides opportunities for students to engage in scientific inquiry, learn about stars and stellar evolution, and make use of NASA resources and data.
Objectives
Students using NASA's Astronomy Village will:
be motivated to learn about concepts in astronomy
engage in scientific inquiry
explore questions related to astronomy
make use of technology to acquire, explore, and analyze information
learn specific concepts related to stars and stellar evolution
System Requirements
Astronomy Village is available for Windows and Macintosh. Its minimum system requirements are:
16 megabytes of RAM
14" RGB color monitor (800 x 600 pixels, 256 colors)
CD-ROM drive
Netscape Navigator 4.0 or higher, or Microsoft Internet Explorer 4.0 or higher
Astronomy Village also runs on Power Macintosh.
Ordering
The new HTML revision of Astronomy Village is currently in beta form. If you are interested in testing the beta version, contact:

NASA Classroom of the Future
Wheeling Jesuit University
316 Washington Avenue
Wheeling, WV 26003

304/243-2388 (voice)
304/243-2497 (fax)

astrov@cet.edu (email)
---
Privacy Statement and Copyright© 1997-2000 by Wheeling Jesuit University/NASA Classroom of the Future™. All rights reserved.