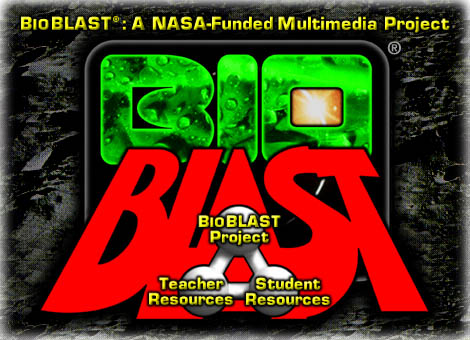 Better Learning through Adventure, Simulation, and Telecommunications
BioBLAST® is a multimedia curriculum supplement for high school biology classes. It encourages students to conduct real scientific research, based on actual research now being conducted by NASA's Advanced Life Support Research program. Hands-on laboratory investigations, computer simulations, and Internet-based telecommunications resources may be accessed via the BioBLAST virtual reality interface, which depicts a futuristic, moon-based research outpost. Please view an introductory view an introductory video Real Media format (735K) or QuickTime format (4.4 MB)
Axiem Award winner | Project Updates | Codie Award finalist
| Teacher Resources | BioBLAST Project | Student Resources |
---
If you have questions or comments related to the
BioBLAST project, email the BioBLAST development team at bbteam@cet.edu.
For problems with this Web site, email the webmaster at webmanager@cet.edu.
---
The Classroom of the Future™ Program is supported by a cooperative agreement between
Wheeling Jesuit University and the National Aeronautics and Space Administration (NASA),
Education Headquarters Division. The program is administered by the Erma Ora Byrd Center for Educational Technologies®
at Wheeling Jesuit University in Wheeling, WV.
Last updated: Thursday, November 21, 2002

Privacy Statement and Copyright © 1997-2002 by Wheeling Jesuit University/NASA Classroom of the Future™. All rights reserved.
Center for Educational Technologies and the COTF/Classroom of the Future logo are registered trademarks of Wheeling Jesuit University.