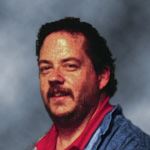 Desktop Publisher/ Graphic Designer
As the Desktop Publisher for the NASA Classroom of the Future (COTF), Carl Tribett has used his expertise to provide page layout designs for many of the lab experiments and library articles for the BioBLAST project. In addition, he has generated many of the graphics used throughout the BioBLAST interface and provided illustrations for the lab experiments. Carl is also the lead person on the BioBLAST journal keeping activities.
Prior to joining the BioBLAST project, Carl was the primary illustrator for COTF's first multimedia project, the award-winning Astronomy Village: Investigating the Universe, and he provided much of the desktop publishing support for that software's User Guide. Carl divides his time between BioBLAST and all other COTF desktop publishing/graphic design needs, which have included logo designs for COTF, Exploring the Environment, and for the Alan B. Mollohan Mission Control and Space Flight Simulator (part of the Challenger Learning Center network). Currently, Carl is assisting with the interface redesign of the COTF website, providing illustrations.
Before joining COTF, Carl worked for West Virginia Northern Community College in Wheeling as graphic designer and as a designer of display advertisements for a small publishing company.
Carl holds an Associate in Arts degree from West Virginia Northern Community College, with an emphasis in art, and a Bachelor of Arts degree from West Liberty State College, with a major in fine arts. Carl is a past president of the Washington Lands Garden Club, which is associated with the National State Garden Clubs Association. Carl has contributed many suggestions from this unique garden perspective to the BioBLAST project.
---

Please email questions about BioBLAST to BBteam@cet.edu.
Please email comments about this site to Webmanager@cet.edu.
---
Privacy Statement and Copyright© 1997-2000 by Wheeling Jesuit University/NASA Classroom of the Future™. All rights reserved.