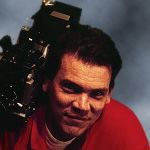 Video Producer/Director
Christopher Valdes has worked in video and broadcast production for seven years, first cutting his TV teeth as a freelance editor, cameraman, and graphics coordinator for such organizations as ESPN, Home Team Sports, and Fox TV in Washington, D.C. After a year with the public relations firm of Hilland Knowlton in D.C., Mr. Valdes got his first taste of educational broadcasting as a producer with GMU-TV on the campus of George Mason University in Fairfax, Virginia. For three years Chris worked closely with professors, producing prerecorded remote-site telecourses and three telecourses per semester for live broadcast to over thirty thousand homes throughout northern Virginia.
"Something big is going on at Wheeling Jesuit!" These were the first words Chris heard about the NASA Classroom of the Future(COTF) from peers at West Virginia University. When the opportunity arose to take a position at a high-tech, educational research and development project with it's own state-of-the-art broadcast facility, Chris' choice was obvious.
For the past two years Chris has worked as a producer/director/videographer for COTF. His first project was to produce, shoot, edit, and co-write the introductory videotape for COTF's Astronomy Village CD-ROM. Since then he has produced supporting video for the Exploring the Environment program (ETE), the Challenger Learning Center (CLC), and for the COTF promotional product, now available at COTF's web site.
Some of the projects Mr. Valdes is currently working on include
- developing the mentor character and serving as on-screen talent for same

- shooting video material to be included on the final CD

- chronicling the BioBLAST teacher/leader workshops on video tape
a new-employee orientation video for Kennedy Space Center's Life Sciences Support Contract (LSSC).
a training video for the Office of Law Enforcement Technology Commercialization (OLETC) at the National Institute of Corrections
a promotional piece for NASA's Commercial Technology Network (CTN)
Future goals include using his past telecourse experience to support production of COTF's maiden telecourse for uplink or broadcast over the local cable network to the Ohio Valley.
---

Please email questions about BioBLAST to BBteam@cet.edu.
Please email comments about this site to Webmanager@cet.edu.
---
Privacy Statement and Copyright© 1997-2000 by Wheeling Jesuit University/NASA Classroom of the Future™. All rights reserved.