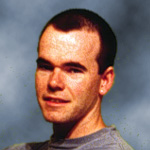 Programmer/Instructional Designer
Dan Thompson is a Programmer/Instructional Designer for BioBLAST. He is responsible for developing simulators for the plant production, resource recycling, and human requirements labs. In addition, Dan is porting the BioBLAST program to MS Windows.
Dan received Bachelors of Science degrees in mathematics and computer science from Villanova University. In 1996 he received a Masters of Science degree in instructional technology from Georgia State University.
Before joining BioBLAST, Dan worked for Galaxy Scientific Corporation, where he developed computer-based training and personal support systems for the aviation industry. Some of the programs he helped develop included an auxiliary power unit (APU), a trouble-shooting tutor, a Global Positioning System (GPS) navigation tutor, and an aircraft maintenance non-routine write-up program.
When not working on BioBLAST, Dan can be found enjoying sports, especially running, biking, softball, and basketball. He also likes trivia, logic puzzles, zymurgy, darts, and pool.
---

Please email questions about BioBLAST to BBteam@cet.edu.
Please email comments about this site to Webmanager@cet.edu.
---
Privacy Statement and Copyright© 1997-2000 by Wheeling Jesuit University/NASA Classroom of the Future™. All rights reserved.