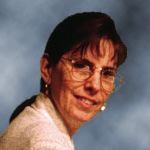 Math Resource Teacher and Manager of the Educator Resource Center
Jeanne Gasiorowski is responsible for incorporating mathematics applications into products developed at the NASA Classroom of the Future (COTF). She manages the NASA-supported Regional Educator Resource Center, which provides high-interest math and science materials for local area teachers. Jeanne also works closely with the local Challenger Learning Center, providing materials and inservice training.
Jeanne is a former high school math teacher with 20 years of experience. She is president of the Ohio County, West Virginia, Board of Education. She earned her Bachelor's degree from West Virginia University and her Masters from Wheeling Jesuit University. Currently, Jeanne is a doctoral candidate at West Virginia University.
---

Please email questions about BioBLAST to BBteam@cet.edu.
Please email comments about this site to Webmanager@cet.edu.
---
Privacy Statement and Copyright© 1997-2000 by Wheeling Jesuit University/NASA Classroom of the Future™. All rights reserved.