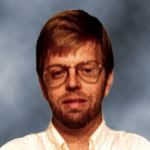 Curriculum Writer
James Coffield is one of the curriculum writers on the BioBLAST project. His duties include development of the computational activities, the hands-on laboratory experiments and the glossary of terms. He has assisted in the development of the computer simulations used by the students and has written several reference articles.
Before joining the BioBLAST group, Jim taught chemistry at Wheeling Jesuit University and Jefferson Community College. He has also worked in an environmental testing lab and conducted research at Oak Ridge National Laboratory.
Jim holds a Doctorate in analytical chemistry from the University of Tennessee-Knoxville and a Bachelor of Science degree with a major in chemistry from the University of the South.
When not at work, Jim enjoys bicycling, rock climbing, skydiving, and hiking in the mountains.
---

Please email questions about BioBLAST to BBteam@cet.edu.
Please email comments about this site to Webmanager@cet.edu.
---
Privacy Statement and Copyright© 1997-2000 by Wheeling Jesuit University/NASA Classroom of the Future™. All rights reserved.