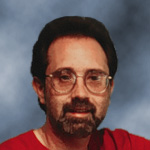 Programmer/Instructional Designer
Dr. Baro received his Bachelor's degree from Valparaiso University, his Doctorate in experimental psychology from Washington University in St.Louis, and he completed a postdoctoral fellowship at the University of Missouri-St. Louis.
His research interests cover a wide range of areas in visual perception, including the physiological bases of dyslexia in children. Prior to his arrival at the Classroom of the Future, Dr. Baro developed and published several instructional software products for both the college/postgraduate and pre-school levels. Dr. Baro has been at the Classroom of the Future for the past four years and has served as a programmer/instructional designer on the Astronomy Village multimedia software development team. He is currently working in a similar capacity on the BioBLAST project development team, in addition to being the team's assistant project manager.
---

Please email questions about BioBLAST to BBteam@cet.edu.
Please email comments about this site to Webmanager@cet.edu.
---
Privacy Statement and Copyright© 1997-2000 by Wheeling Jesuit University/NASA Classroom of the Future™. All rights reserved.