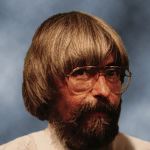 Curriculum Writer
John Hornyak is one of several curriculum writers on the BioBLAST project. In addition to conducting extensive background research for the project, he has developed a database for tracking pertinent articles, tracked copyright permissions for the team, and provided support for some of the experiments in the areas of plant production and resource recycling.
Prior to joining the BioBLAST project, John was on the team that developed the Classroom of the Future's first multimedia project, Astronomy Village: Investigating the Universe. He authored two of the ten investigation pathways, developed some of the hands-on experiments, and acted as a subject matter consultant for the team. John will be joining other members of the Classroom of the Future staff in producing a windows version of Astronomy Village and will begin content development for a middle-school astronomy program based on our solar system.
John has been involved in developing science-related programs for quite some time and has been known to use some rather outlandish ideas to get his point across, like refitting an old school bus with wings, fins, a high-tech interior, and a shuttle type paint job to take science on the road. Over the years, thousands of kids of all ages have joined him in his mobile planetarium to learn more about our universe.
When he's not watching the stars, John can be found exploring the world via amateur radio or tending the herbs, vegetables, and flowers grown in the soil and hydroponic systems at his home just outside the city.
---

Please email questions about BioBLAST to BBteam@cet.edu.
Please email comments about this site to Webmanager@cet.edu.
---
Privacy Statement and Copyright© 1997-2000 by Wheeling Jesuit University/NASA Classroom of the Future™. All rights reserved.