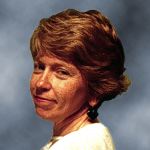 Senior Instructional Designer
Dr. Ruberg is the lead designer and project manager of BioBLAST project. This project is managed at the Classroom of the Future (COTF), but has included collaborative relations with NASA researchers located at Kennedy and Johnson Space Centers, Ames Research Center, and NASA Headquarters.
Prior to joining COTF, Dr. Ruberg served on the faculty at Virginia Polytechnic Institute and State University (Virginia Tech) as a Research Associate/Assistant Project Director for the Virginia Cooperative Extension Service Interactive Design and Development Group. This project, funded jointly by the Kellogg Foundation and USDA, involved developing and implementing thirteen interactive multimedia kiosk stations in malls and libraries throughout the state of Virginia. Dr. Ruberg received her Doctoral degree in education at Virginia Tech. Her dissertation research was funded as part of an NSF curriculum development grant jointly awarded to the Biology Department and Educational Technologies Group. It examined how computer-mediated communication could be used to enhance student participation and interaction in a multimedia plant science class. Prior to her work in higher education, Dr. Ruberg had several years of experience working with community-based educational initiatives. Dr. Ruberg has been an invited speaker at state-wide and international conferences and has authored several research articles in the area of computer-mediated communication.
Why am I interested in science?
"Science is a way of knowing. At the heart of science are people asking questions about nature and believing that those questions are answerable."
--Neil Campbell, Biology, 1993
Why study human exploration of space issues?
"There is no question that humans will establish outposts on Earth's moon and make interplanetary journeys. The only uncertainties concern when and how these expeditions are to be made."
--Jack Stuster, Bold Endeavors: Lessons from Polar and Space Exploration, 1996
How can effective use of computers improve and enhance science, math, and technology education?
"There's more than one way to learn--we know that. Effective use of computers in the classroom facilitates multiple learning styles and diverse pathways to understanding. It is exciting to work on the design and development of alternative educational materials that may offer new pathways for students and open the doors to the classroom."
--A True Believer, 1997
---

Please email questions about BioBLAST to BBteam@cet.edu.
Please email comments about this site to Webmanager@cet.edu.
---
Privacy Statement and Copyright© 1997-2000 by Wheeling Jesuit University/NASA Classroom of the Future™. All rights reserved.