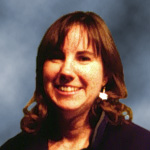 Laboratory Manager and Science Resource Teacher
Dr. Cummings manages the Experimentation Laboratory for the BioBLAST project. In this capacity she has worked with NASA staff to develop curriculum activities, papers, and experiments related to balancing systems for life support in space habitats. These curricular materials focus on meeting a crew's food, air, and water requirements by suggesting ways to quantify the edible biomass, oxygen output, and carbon dioxide absorption rate of various plant candidates for space travel. An equally important challenge has been creating learning materials that address the recovery of waste water for potability.
Dr. Cummings has developed and taught science and computer technology courses for middle school through post-graduate university levels. She has extensive experience in telecommunications, including conducting international space simulations via e-mail and running the Environmental Science Discussion Group on Dade County Public School's Electronic Bulletin Board. She received her Ph.D. from the University of Miami-Rosenstiel, School of Marine and Atmospheric Science, Miami, Florida.
Words to Live By:
"This we know: the earth does not belong to man, man belongs to the earth. All things are connected like the blood that unites us all. Man did not weave the web of life, he is merely a strand in it. Whatever he does to the web, he does to himself."
-- Attributed to Chief Seattle in 1854, probably written by screenwriter, Ted Perry, in 1972. No actual recording of Chief Seattle's original speech exists. However, Dr. Henry A. Smith produced a flowery translation from his notes of the speech, which was not given in English, but in either Duwamish or Suquamish.
---

Please email questions about BioBLAST to BBteam@cet.edu.
Please email comments about this site to Webmanager@cet.edu.
---
Privacy Statement and Copyright© 1997-2000 by Wheeling Jesuit University/NASA Classroom of the Future™. All rights reserved.