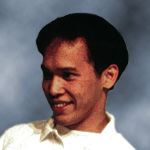 Computer Mediated Communications Specialist
Norman Bercasio works as a Computer Mediated Communications Specialist at NASA Classroom of the Future. As a member of the BioBLAST team, he is responsible for designing, programming, and maintaining the project's homepage. He also serves as a mediator between BioBLAST teachers and students from 21 high schools, and NASA Scientists and Engineers from Johnson Space Center and Kennedy Space Center.
Mr. Bercasio received his Bachelor's degree in computer ccience and his MBA from Wheeling Jesuit University in Wheeling, West Virginia. His thesis project was to examine, design and implement the Management Information System department for the Knox Organization.
During weekends and late nights, Mr. Bercasio organizes trips and activities for international students at Wheeling Jesuit University. He spends his vacation travelling through Spain and Belgium. He enjoys most outdoor activities including rafting, biking, hiking, camping, and spelunking. He especially loves to ski, and play soccer. He collects stamps and pins from all over the world.
---

Please email questions about BioBLAST to BBteam@cet.edu.
Please email comments about this site to Webmanager@cet.edu.
---
Privacy Statement and Copyright© 1997-2000 by Wheeling Jesuit University/NASA Classroom of the Future™. All rights reserved.