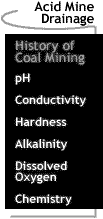 Acid Mine Drainage: History of Coal Mining
Wheeling's coal mining industry spans roughly 190 years. During that time span, billions of tons of coal have been extracted from virtually every hillside in and around the city. Many of Wheeling's coal mines were located along Big Wheeling Creek, Middle Wheeling Creek, and Little Wheeling Creek, as well as along many of Wheeling's lesser tributaries, such as Peters Run. The amount of coal mined from Wheeling's mineral-rich hills has fluctuated over time, since demand was tied to the economic performance of Wheeling's iron, steel, and other related industries.

Conrad Cotts established Wheeling's first major coal mining site along Coal Street (now Kennedy Street). The mine was closed following a cave-in during 1815. Throughout the 1800s most of Wheeling's major mining sites were located on Wheeling Hill, Chapline Hill, and the Manchester slope in East Wheeling. Most of Wheeling's coal was consumed by private residents and the area's industries. However, some was exported to Pittsburgh and other areas of the country.

During the 1800s and early to mid-1900s, most of Wheeling's industries owned and operated their own coal mines. "Reymann Brewing Co.," for example, "owned a Manchester Mine and all the major iron foundries except 'Top Mill' controlled mining interests" . . . in the Wheeling area.
As stated above, the amount of coal mined in the Wheeling area has fluctuated in relation to the area's siron, steel, and subsidiary industries. During 1807 only 2,500 tons of coal was mined in Wheeling, according to Wheeling Bicentennial 1769-1969 (1969). Roughly 205,000 tons of coal was mined during the peak year of 1879. Between 1879 and WWI Wheeling's coal production dropped sharply. During WWI, and after, the country's demand for coal increased and Wheeling's coal mining industry reached an all time high during 1925, producing 3 1/2 million tons of coal. (Holoway, J. 1969)
Wheeling coal production decreased following WWII, but rebounded during the 1970s. From the 1970s until the late 1980s, Wheeling's coal industry mined record shattering amounts of coal. Since 1990, however, Wheeling's coal industries have virtually come to a halt. By 1995, there were no mining sites in Wheeling proper.
[ Acid Mine Drainage: History of Coal Mining / pH / Conductivity /
Hardness / Alkalinity / Dissolved Oxygen / Chemistry ]
[ Sewage ] [ Agriculture ] [ Dredging ]
[ Glossary] [ Related Links ] [ References ] [ PBL Model ]
[ Home ] [ Teacher Pages ] [ Modules & Activities ]