Hydrosphere
Normal, or non-El Niño Conditions In the Pacific, the ocean currents basically follow the circulation around the subtropical high-pressure areas. Due to the Coriolis force, the actual water flow is slightly to the right of the wind in the Northern Hemisphere, and slightly to the left of the wind in the Southern Hemisphere.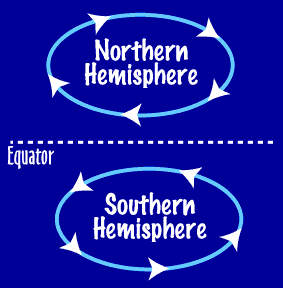 Ocean currents in the Pacific
During a normal, or non-El Niño year, the interaction of persistent winds with the ocean results not only in horizontal currents, but also in a vertical overturning, or upwelling, of the ocean water. This causes cold, nutrient-rich water to reach the surface. The upwelling is strongest along the coasts of Peru and southern Ecuador then gradually weakens as the ocean current turns west along the equator.
Near the equator in normal years, temperatures as cold as 20° to 23°C occur in the eastern Pacific and temperatures as cold as 27° to 30°C occur in the western Pacific. Farther south, at the latitude of Peru, the difference in temperature between the eastern and western Pacific is about 8°C. A thermocline of only 50 m exists off the coast of Ecuador, while in the western Pacific, near New Guinea, the thermocline is at 300 to 500 m.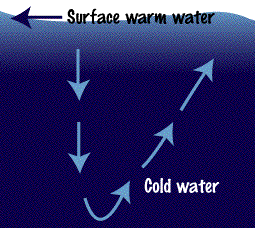 Depiction of upwelling
El Niño Conditions During an El Niño year, the strong ocean currents around the South Pacific subtropical high pressure weaken, upwelling decreases along the coastlines of Peru and southern Ecuador, and temperatures of the surface water begin to rise. Water temperatures usually rise 1° to 3°C, but during the 1982-83 El Niño, a 24-hour temperature rise of 4°C was observed. The easterly trade winds weaken in the eastern Pacific, and during a strong El Niño, they may even become westerly. These events are coupled with the events occurring in the atmosphere, where the normal high pressure in the eastern Pacific weakens and the normal Walker cell breaks down.
[ Atmosphere ] [ Biosphere ] [ Hydrosphere ] [ Lithosphere ]
[ Glossary ] [ Related Links ] [ References ] [ PBL Model ]
[ Home ] [ Teacher Pages ] [ Modules & Activities ]