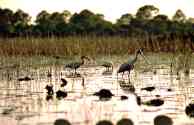 Everglades: Overview
The Florida Everglades, located in southern Florida, is one of the largest wetlands in the world. Several hundred years ago, this wetlands was a major part of a 5,184,000 acre watershed that covered almost a third of the entire state of Florida. The Everglades consist of a shallow sheet of fresh water that rolls slowly over the lowlands and through billions of blades of sawgrass. As water moves through the Everglades, it causes the sawgrass to ripple like green waves; this is why the Everglades received the nickname "River of Grass." Photo: Birds feeding in Savannas wetland, St. Lucie County, FL. Photo courtesy of South Florida Water Management District.

The Everglades have changed dramatically throughout history. Originally, the Everglades extended over 3,000,000 acres from Lake Okeechobee to Florida Bay. This territory is often referred to as the "historic" Everglades. Settlers, who arrived in southern Florida in the early 1900's, drained much of the wetlands to build houses and plant crops. They also channeled the water to provide a constant supply for themselves, and to protect themselves from frequent deadly floods. Slowly the Everglades shrank.
Eventually people began to recognize the various functions of wetlands ecosystems, including their importance as a habitat for many unique species of microorganisms, plants, and animals. By this time, however, agriculture was thriving, and Florida residents depended on the Everglades' water. Citizens of southern Florida also needed flood control. In an attempt to satisfy everyone and to protect the remaining Everglades, the government divided the land. Of the original 3,000,000 acre historic Everglades, the northern 1,000,000 acres were designated the Everglades Agricultural Area (E.A.A.). Today, most of this land is used to raise sugarcane. The southern 1,500,000 acres of the original Everglades were dedicated in 1947 as the Everglades National Park. The park consists of many types of wetlands that offer habitat to a wide variety of plants and animals. The remaining 500,000 acres, located in the middle of the historic Everglades, became a water conservation area with a system of canals, dams and dikes used to control the flooding in large Florida cities. Photo: Aerial view of Everglades National Park. Photo courtesy of South Florida Water Management District.
Overview ..|.. Species ..|.. Management
Glossary ..|.. Related Links ..|.. References |..PBL Model
Home ..|.. Teacher Pages ..|.. Modules & Activities

---
HTML code by Chris Kreger
Maintained by ETE Team
Last updated April 28, 2005
Some images © 2004 www.clipart.com
Privacy Statement and Copyright © 1997-2004 by Wheeling Jesuit University/NASA-supported Classroom of the Future. All rights reserved.
Center for Educational Technologies, Circuit Board/Apple graphic logo, and COTF Classroom of the Future logo are registered trademarks of Wheeling Jesuit University.