Everglades: Management--Removal
The Everglades have been removed from southern Florida through two primary means: actively draining the wetlands and filling them with soil in order to create land upon which developers can build residences and businesses, and passively diverting water away from them.

In the early years of Everglades removal, actively draining the wetlands and filling them with soil was the most common cause of wetlands destruction. Another way in which people drained the Everglades was by planting the melaleuca tree. The melaleuca takes up so much water that it is able to dry entire swamps. People have stopped planting this tree, but the problem still exists because the melaleuca is an exotic species. "Exotic" means it did not originally live in the Everglades; therefore there are no diseases, pests, or consumers present to stop its growth. For this reason, the melaleuca tree prospers in southern Florida. Everglades National Park rangers are constantly battling to keep it out of the park.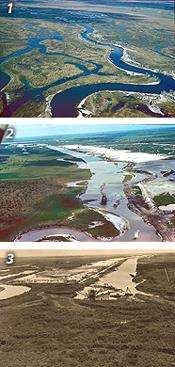 More recently, it has been the passive diversion of water away from the Everglades that has led to the removal of the wetlands. Several Florida cities, including Miami, Ft. Lauderdale, and West Palm Beach, rely on water drawn from the Everglades. The U.S. Department of the Interior reports that the population of the 16 counties of southern Florida, already over 6 million people, will more than triple in the next 50 years. As Florida's population grows, the Everglades' water resources become more important. An increase in population also means more people need to be protected from floods.

Flood protection is generally accomplished by damming, diking, and rechannelizing or straightening waterways. The photographs to the left show stages of the Kissimmee River water management project: 1) Kissimmee River prior to channelization, 1961, 2) Kissimmee River during construction, 1961, 3) Kissimmee River after extensive channelization, 1965. Photos: Channelization of the Kissimmee River (1961-1965). Photos courtesy of South Florida Water Management District.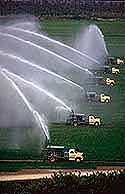 Water is also diverted from the Everglades for use by farmers in the Everglades Agricultural Area (E.A.A.). Crops such as sugar cane bring money into Florida and provide jobs for mill and farm workers. Without water from the Everglades, farming in the E.A.A. could be drastically reduced. Florida's economy could suffer. This economic need for water from the Everglades supports the argument to continue to remove water from this wetlands, despite the environmental impacts. Photo: Irrigation of agricultural fields with trucks. Photo courtesy of South Florida Water Management District.
Overview ..|.. Species ..|.. Management
Removal / Protection
Glossary ..|.. Related Links ..|.. References |..PBL Model
Home ..|.. Teacher Pages ..|.. Modules & Activities

---
HTML code by Chris Kreger
Maintained by ETE Team
Last updated April 28, 2005
Some images © 2004 www.clipart.com
Privacy Statement and Copyright © 1997-2004 by Wheeling Jesuit University/NASA-supported Classroom of the Future. All rights reserved.
Center for Educational Technologies, Circuit Board/Apple graphic logo, and COTF Classroom of the Future logo are registered trademarks of Wheeling Jesuit University.