Topic Overview: Aquatic
Aquatic means taking place in or on water. The aquatic biome is all the water on Earth. It is the largest biome on our planet.
Berkeley's Biomes group divides the aquatic biome into two main groups. They are marine and freshwater. The difference between these two groups is the amount of salt in the water.
Marine water contains a lot of salt. Most of Earth's aquatic biomes are marine. All the world's oceans and seas are made of saltwater. They are all marine biomes. Oceans and seas cover about three-fourths of Earth's surface. That is a lot of water!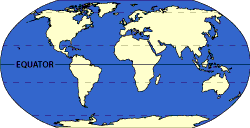 Most living things cannot drink saltwater. Plants and animals do live in marine biomes, though. They have special ways to get rid of the extra salt in their bodies. Seaweed is an example of a marine plant. There are many types of marine animals. Some are as small as your hand. Others are bigger than your house! Starfish, lobsters, and whales are marine animals.
Fresh water contains almost no salt. Some of Earth's aquatic biomes are freshwater. Streams, rivers, and lakes are made of fresh water. Most plants and animals need freshwater to live. Most freshwater is frozen, though. It is in ice caps and icebergs. Most plants and animals cannot use the frozen water. This leaves only 1 percent of all the water on Earth useable freshwater!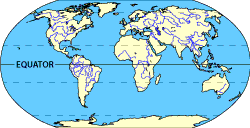 Water lilies and cattails are plants that live in freshwater. Trout, crayfish, and alligators are freshwater animals.
Photo © 2000-2003 www.clipart.com