The Economy: North Korea

Following communist philosophy, North Korea's industries were nationalized and agricultural production collectivized shortly after the end of World War II. Like South Korea, North Korea strove for economic development through a series of multi-year development plans designed by the central government. An era of considerable growth followed. Emphasis, however, was on developing heavy industry and weapons programs to support a large military establishment at the expense of consumer-related production.

Since North Korea was an important zone of contention between the Communist bloc and the West during the Cold War, it received significant economic support from Communist China and the Soviet Union. With the collapse of the Communist bloc in the early 1990s, North Korea has been left more and more to itself both economically and politically. The Soviet Union was North Korea's biggest economic benefactor and trading partner. As the Soviet Union metamorphosed back into Russia and large chunks of the superpower broke off and became independent, the economy of Russia suffered great losses. As a result, over the period of 1989-92, Russia cut off financial aid to North Korea. The economy of North Korea declined sharply following this loss of support, leading to interruptions in industrial production and critical energy shortages. At present, the economy of North Korea is stagnant. The 1994 estimated GDP was about $21.3 billion, only about 4% as large as South Korea's GDP.

Energy North Korea's natural energy resources are greater than those of South Korea, but like South Korea, North Korea has no known oil or gas reserves. Over half of the North's energy production is by abundant hydroelectric power; the rest is generated through the burning of imported fuels. Presently, North Korea's total capacity for electrical energy at any given time is about 9,500 MW. Actual production in 1993 was about 50 billion kWh, or 2,053 kWh per person, comparable to the per capita use in South Korea. However, most of the energy in the North is used by industry and the military, not by consumers.

Industry Industrial products in the North include machinery, military products, raw and processed minerals like steel and copper, textiles, and some food processing.

Agriculture North Korea has significantly less farmland than South Korea, yet agriculture in North Korea now accounts for about 25% of the GDP and 36% of the work force. This is an interesting change from the Korean War era because now agriculture in North Korea accounts for a larger part of the North's economy than it does in the more richly endowed South. Principal agricultural products of North Korea are similar to those of the South: rice, potatoes. and livestock.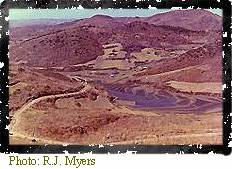 One of the most important food crops in Eastern Asia, including both Koreas, is rice. The photo to the left shows terraced fields and rice paddies in every available spot in the rugged countryside of the central highlands of South Korea. Similar scenes would be found all through North Korea as well. In spite of extensive irrigation, heavy use of fertilizers, and introduction of modern farming techniques, North Korea does not yet produce enough food to feed its own people. Factors contributing to this deficit include limited acreage suitable for agriculture, concentration of governmental support in military and heavy industry, and the general economic depression caused by loss of economic aid from the disintegrating Communist bloc. Harvests have been declining since 1989, but now North Korea is experiencing critical food shortages brought on by natural disasters, on top of the other problems. The heaviest rains of this century fell on North Korea in the summer of 1995, causing landslides and extensive flooding. More heavy rains caused renewed flooding in the summer of 1996. This flooding two years in a row has contributed to back-to-back poor harvests and the threat of famine. The United Nations and religious and humanitarian groups worldwide are attempting to supply food and aid.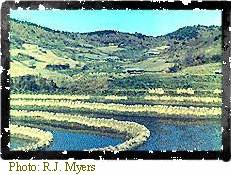 This is a close-up of some rice paddies. The photo, taken in the South Korean highlands, is typical of fields throughout North and South Korea.

[ Korea Today ] [ The Land of Korea ] [ The People of Korea ]
[ The Economy: South Korea / North Korea ] [ Current World Relations ]
[ References ] [ PBL Model ]
[ Home ] [ Teacher Pages ] [ Modules & Activities ]