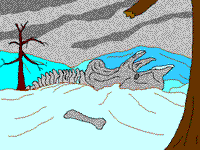 A Global Disaster!
In this alternative explanation of the dinosaurs' disappearance, the end came literally in a global disaster--the impact of a giant asteroid! The crater formed by the impact is estimated to be at least one hundred miles across. Rock thrown out of the crater blanketed the ground up to several thousand miles away covering much of North and South America destroying everything. Giant waves called tsunamis swept over the land.
But, not only the Americas were affected! The impact and resulting heat wave would have caused giant forest fires all over the world. Thick clouds from the dust thrown up by the impact and clouds of smoke from fires started by the heat of the impact explosion covered the whole Earth for at least six months to a year. Algae in the oceans and plants on the land not burned by the fires died due to the lack of sunlight. Chemicals from the asteroid and the heated air formed acid rain poisoning the rivers, lakes and oceans, causing countless additional deaths.
Thus, according to this idea, the dinosaurs died quickly by fire, storm, poison, and starvation.
But now the question is: did a giant asteroid strike Earth 65 million years ago? Is there evidence for impact craters on Earth, especially a big one at just the right time? Were there any asteroids or comets in space that could have hit the Earth? Is there evidence of huge fires? Do the fossils show that the dinosaurs all died suddenly? Could such an impact ever happen again and destroy our civilization?
In your search, you might want to look for information on asteroids, impact craters, iridium, and extinctions. Good luck!