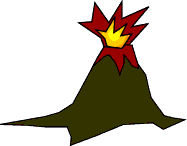 Thaaaar she blows! Again!
We are standing on the plains of a chunk of continent that broke free from the Gondwanaland supercontinent about 10 million years ago and has been roaring northward at the screaming rate of several centimeters per year ever since! In about 50 million years, this chunk of land will crash into Asia and form the Himalaya Mountains. About 65 million years from now, people will live here, and the place will be called India.
Right now, however, things are a bit unsettled here! About a million years ago, this piece of land passed over a "Hot Spot" in the Earth's mantle. Watch the animation at the top of the page carefully to see what happened. (Hit "Reload" to run the animation again.). First you see a cross section of the Earth. A huge mass of molten rock rises up from the depths of the Earth and pushes up against the surface. This causes the surface to bulge slightly and to form huge cracks in the ground. That was bad enough, but now gobs of molten rock flow upward through the giant cracks in an endless series of volcanic eruptions. As our view changes to see the scene from above, we see the land covered with layer upon layer of lava. Also huge clouds of dust, sulfuric acid droplets, and noxious gases from the eruptions fill the air -- enough to cover the whole Earth!
Cough! Cough! Hack!
As a result, the world's weather for the last hundred thousand years or so has changed back and forth from fair to poor to downright miserable over and over and over again. The air and oceans are full of dust and poison gases. Forecasts say this will go on for another hundred thousand years! Man! How's a self-respecting Dino supposed to survive?