Looking at Life Today
Modern reptiles are cousins to the dinosaurs. Crocodiles are among the most ferocious reptiles alive today.
Reptiles suffer from fewer diseases than warm-blooded animals, but reptiles do get sick. For example, an epidemic of Entamoeba invadens caused by the parasite amoebas swept through the London Zoo and killed a large number of reptiles and snakes. Many amphibians and reptiles have a gland, the Harderian gland, next to their eyes that washes excess salt out of their bodies. The glands form droplets sometimes called "crocodile tears." These glands can become infected, sometimes causing the animal to lose its sight. Snakes get blood parasites from tick bites.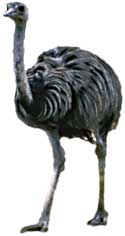 Many scientists think birds are the descendants of dinosaurs. This emu walks like bipedal ("two-footed") dinosaurs. Just imagine this bird with a longer tail, a tooth-filled mouth instead of a beak, and (maybe) no feathers; and you have a small-scale version of a T-Rex!
Birds suffer from many more diseases than reptiles. Chickens get a disease called Rous sarcoma, which causes tumors. Chickens and turkeys also suffer from diseases caused by parasites. One such disease, called Blackhead, spread from captive turkeys to wild heath hens in the eastern United States during the early 1900s.The heath hens had already been significantly reduced in number due to hunting and loss of habitat. Catching blackhead disease helped pushed them to extinction. Image © 1999 -www.arttoday.com
So, did dinosaurs get sick? Probably, yes--from the same kinds of diseases that make people sick.