Geologic Time Activity
Compare geologic time to the length of a football field, which is 100 yards long. Earth formed about 4.6 billion years ago. That's 4,600,000,000! If you divided 4.6 billion by 100, then each yard equals 46,000,000 years, and each ten yard section equals 460,000,000 years.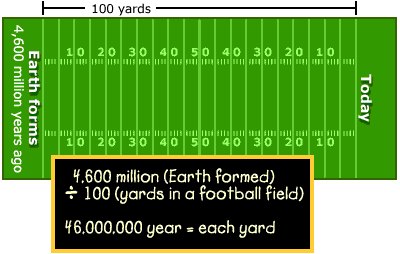 Making a Time Line
Print out or draw a model of a football field. (Note: The "print out" option provides you with a scale model of a 25-yard section of a football field and two end zones. You will need 4 copies of the 25-yard section but only 1 copy of the end zones.) Starting at the left (4.6 billion years ago) and "moving forward in time," label the 10-yard lines in years. Then, using different colored markers, draw a horizontal line to show the beginning and end of each of the following periods and eras.

Cenozoic Era (65 million years ago [mya] to present)
Triassic (245-208 mya), Jurassic (208-146 mya), and Cretaceous (146-65 mya) periods
Paleozoic Era (570-245 mya)
Proterozoic Era (2500-570 mya)
Archaean Era (3800-2500 mya)
Hadean Era (4600-3800 mya)
Option: Make a circle, pie diagram, or clock that shows the amount of time in degrees (there are 360 degrees in a circle) or in percentages for the following:
a clock of the 4.6 billion year history
a clock of the Mesozoic (Triassic, Jurassic, and Cretaceous)
a clock of the Mesozoic to the present.
Additional Activities: What is a Million? and Finding an Event in Time