There's good old Mother Earth.
Say, did you ever wonder about all of the things that have ever happened on Earth and how old it really is? As it turns out, Mother Earth was a bit reluctant to let out her true age. It took us a long time to figure it out, but as near as we can tell, Mother Earth is four thousand, six hundred million years old (4,600 million = 4.6 billion), give or take a few hundred million years.
How old is that, really? It's older than your parents, or your grandparents, or even you great grandparents! It is older than anything you can see around you, like trees, buildings, or roads. It is even older than the hills, valleys, and rivers around where you live. It is so old that the world's mountains have been built up and worn down many times, the continents have wandered across the face of Earth like tumbleweeds, and plants and animals have changed many times, from amoebas to dinosaurs to people. The age of Earth is so long compared to all periods of time that we humans are familiar with, it has been given a special name: Geologic time.
The age of Earth is as vast in time as the universe is vast in space. It is not easy to really get a "feel" for 4,600 million years! One way to try to get a "feel" for how big it is, is to break the number down into smaller pieces that perhaps we can understand. Just for fun you might try the activity, "What is a Million?" Then try to think about 4,600 million!
Another way we try to understand the enormous age of Earth is to make simple comparisons. One comparison you can use is to compare the length of Earth's history to the length of a football field in the geologic time activity.
Here we use another comparison to help show the span of time since the formation of Earth: "The Stairway of Time."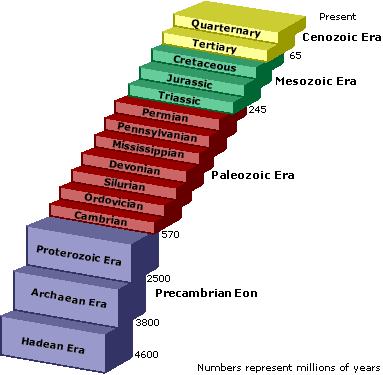 The bottom of the Stairway represents the formation of Earth 4.6 billion years ago. The top represents the present or today. The different steps represent different segments of time in Earth's history. Something different was happening during each segment.
Many exciting changes have happened on Earth since it formed. To find out a little about the changes that occurred during the different time segments, click on the names on the Staircase or on the list below:
Are you curious about where the strange names on the Staircase of Time come from? Do you want to know "How old is that rock?" and how geologic time periods were determined?